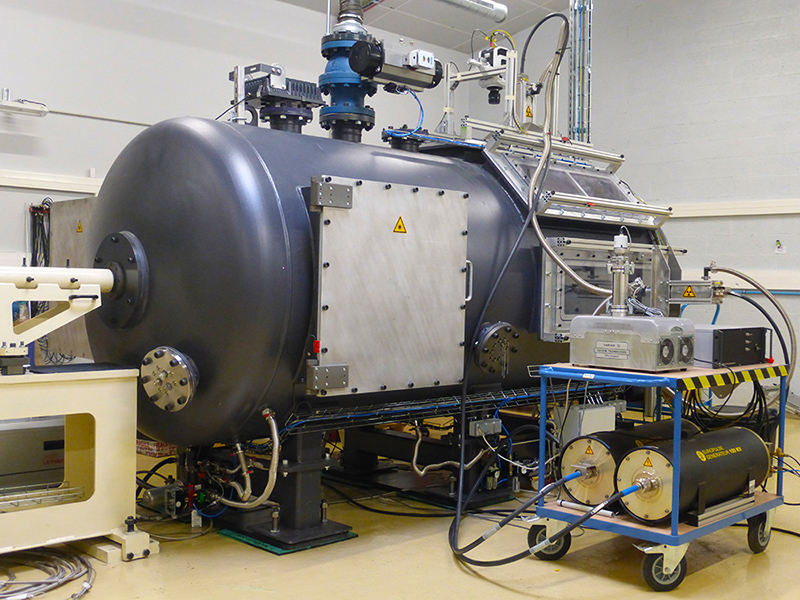 In our laboratory, our HERMES two-stage launcher – which enables us to perform impact tests at extremely high velocities (up to 10.5 km/s) – is fitted with a firing-range chamber at one end, where the target to be tested is installed. Developed by our experts, this chamber has been designed to guarantee operator safety when carrying out tests on reactive materials.
The ergonomic design means the technicians' job is streamlined with a smoother initial set-up and simpler configuration changes, all of which results in significant time savings during test campaigns. But that's not all… It is compatible with all the essential metrology instruments required for minute observation during impact tests, to detect details invisible to the naked eye due to their speed: high-speed cameras, radar, lasers, interferometry equipment, etc. Even greater amounts of relevant data can therefore be generated during the tests. The chamber has windows and vacuum sections that are able to host all the required connectors.
This firing-range chamber has been specially produced for several of our customer's test laboratories worldwide (in particular at the University of New South Wales in Australia). We tailor the design for this type of chamber by taking into account the individual needs and requirements of each customer.