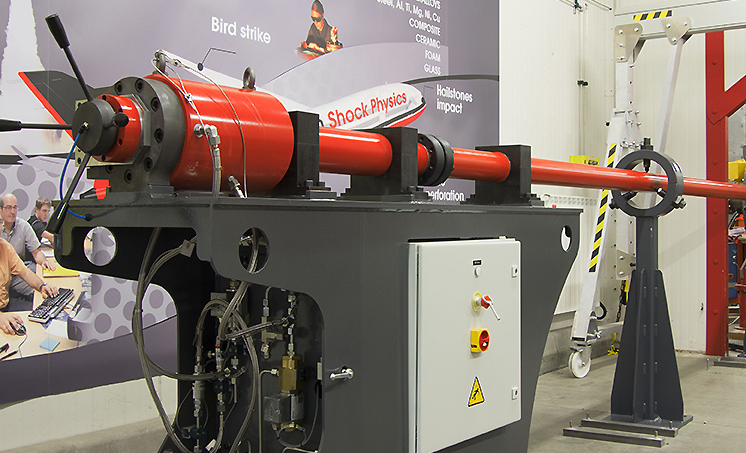 For 30 years now, THIOT INGENIERIE has been expanding its expertise in the design and manufacture of laboratory launchers for studying the fast dynamics of materials and structures. The company is maintaining its position as leader with its latest development: new-generation launchers. This new type of gas gun means that universities and research centres – in the aeronautics and military sectors in particular – can now acquire even more sophisticated, modern and high-performance machines. Our gas guns are easy to upgrade over time, thanks to the wide range of add-on options.
The benefits of the new-generation laboratory launchers include:
Optimal reliability: No more untimely firing, even if a seal is damaged. The high-speed valve used to trigger firing is controlled in a safe and reliable manner. It is designed so that the valve cannot open as long as the operator has not given the command signal. Firing is 100% secure.
Technological improvements: The gas flow in the gun has been optimised, increasing performance by more than 10% compared to previous versions. The muzzle is also equipped with a new support for a velocity measurement device which uses either optical fibres or cut wires, and makes it possible to switch from one device to another according to requirements. Whatever the conditions of use, the launcher will be equipped with the most suitable velocity measurement system.
Practical and scalable: The gun is designed to accommodate two options: a booster pump and a vacuum pump, which enhance firing performance. Once connected to the launcher, these options are automatically recognized by the "full options" programmable logic controller. A given launcher also can be used with barrels of different calibres.
Lower cost: Our maxim is to design robust and reliable launchers that are easy to use and deliver unparalleled firing performance. This new generation of standardised launchers offers our customers test equipment that combines all of these criteria at lower cost and provides the possibility of upgrading over time. Our offer can thus be adapted to our customers' budgetary constraints.
Space-saving: No more remote components. Like the main gas control panel, the electrical box is incorporated directly in the frame and can be placed on either side of the launcher, according to the customer's chosen configuration.
More modern design: The launcher has been completely redesigned for a more modern look.
If you require further information or wish to request a quote, please contact us !