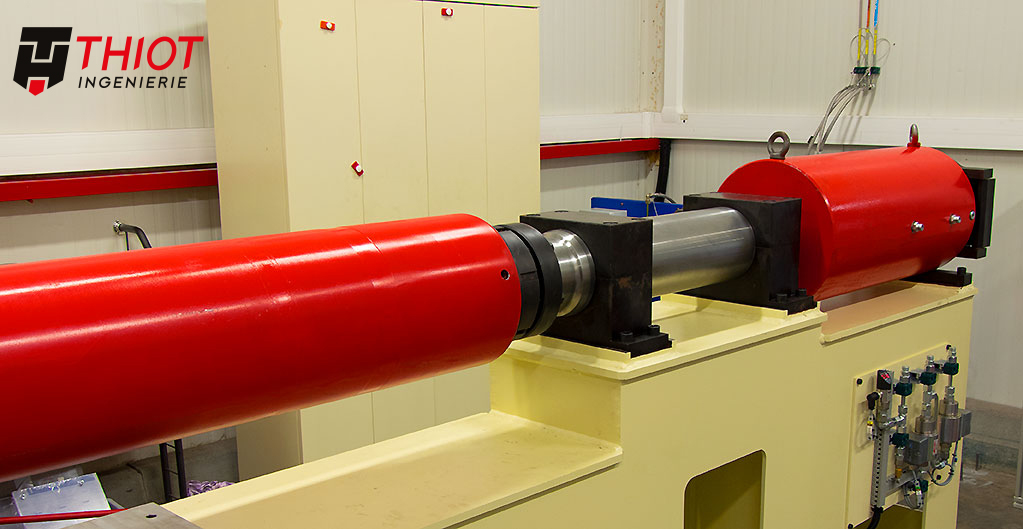 THIOT INGENIERIE's team is proud to welcome a new single-stage gas gun in its shock physics laboratory. Named THOR and inspired by the god of thunder, this new test equipment comes to broaden our capabilities by adding power to our range of gas guns. It can meet all certification test requirements for aircraft and engine manufacturers. THOR will be thus used for CS 23, CS 25, CS 29, CS-E and CS-P certification tests (hailstones, tire debris, ice blocks, bird impacts, etc.).
Certification tests for aeronautics require launching projectiles weighing up to 8 lbs. For rotating parts such as engine or helicopter blades, requisite velocities for tests can be close to Mach 1. Compared  to our other gas gun TITAN, THOR will be able to launch heavier projectiles at higher velocities: up to 11 lbs at 300 m/s (1080 km/h)! A new string to our bow to keep our leading position in shock physics and meet even better our customers needs.
THOR will be inaugurated at the end of 2016, in our own premises in Puybrun (Lot). A unique opportunity for our customers to discover this brand new test equipment.
SEE MORE ABOUT OUR AERONAUTICS APPLICATIONS